Liaison Partner: Aldo Elí Guerra L.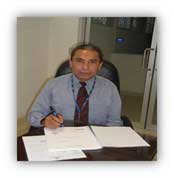 CPA. Aldo Elí Guerra Lagaespada, Certified Public Accountant, since approximately 28 years of professional experience in the field of Public Accounting, worked in different Private enterprises, Government entities and International Institutions, where has accumulated knowledge and experience, through active participation in a variety of companies, such as industrial enterprises, commercial center, services, insurance companies, banks, cooperatives for credit the agricultural activities and other nonprofit entities that manage funds, from different international agencies such as: the BID, USAID, World Bank, funds from agencies based in Netherlands , Switzerland, Sweden, Japan and other Europeans Countries.
CPA. Aldo Elí Guerra Lagaespada Before belong our firm, he worked in companies of international prestige. He has directed and participated, in the development handbook Administrative Procedures and accounting operations, including Internal Audit handbooks in banks and private sector companies and government.